Automation Technology will make a big impact within insurers processes
With the rise of machine learning and digitalization, automation technology is starting to take over insurers' operation departments and it´s becoming critical for employees to have any sort of digital experience and expertise to achieve success. On the other end, new jobs are emerging in the marketing and product development teams.
According to a study from McKinsey, automation technology will probably change the vast majority of occupations, and up to 45% of all work activities in the United States. This is a radical change of what we are used to nowadays, so the insurances that adapt the quickest to these new trends are the ones that will succeed.
A Deloitte analysis has estimated that automation technology will make its biggest impact in the operation department as it will be reduced by at least 15%. Not everything is a lost cause as the Product Development and Marketing teams are expected to grow by at least 28%. These new activities will surely drive new types of jobs, for example, marketing and sales teams will be managing digital channels, while newly created analytical teams will be tasked with detecting fraud, creating the "next" best offers and managing smart claims avoidance.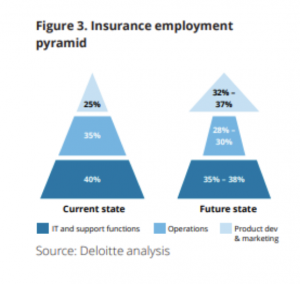 As shown in the study, technology is having a big influence in positions under operations and administrative support. According to a study made by IBM internal analyses during 2017, automation technology through Robotic Process Automation (RPA) can offer a return on investment (ROI) often ranging between 30 and 50 percent. Therefore, certain tasks under operations such as calculating commission compensation are expected to be completely automated.
Currently, there is already an immense variety of software in the market that manage this process, but the one that really stands out is Blitz. Blitz is a sales commission tracking software that helps leaders to manage their agents' commissions and get them organized.
Sales Commission Plans can be quickly created, modeled, and rolled out to meet changing business needs. Blitz provides your team with full insights and transparency into the calculations and payments of their commissions.
On the other hand, Deloitte has highlighted other important tasks that need to be attended and will arise after the new technology emerges, some of these potential activities are:
Use social media information to design customized products.
Have a virtual personal assistant to help underwriters identify advanced risk attributes
Use chatbots and robots to manage customer service interaction.
Identify preference patterns based on customer interactions to create cross-sell/upsell opportunities
Use machine learning to teach systems to automatically handle all exception processing
Use machine vision to assess the severity of damage using real-time video footage
Employ social media information to identify claim fraud patterns
Automation Technology is a challenge for Human Resources
New challenges will arise for Human Resources as well, for example, insurances will need to learn how to retain their top performers with abilities and skills such as advanced analytics, agile software development, experience in emerging and web-based technologies, especially those that can translate such capabilities into business conclusions.
Given the magnitude of these changes, it´s important for insurances to rethink their priorities, including retaining their talent and identifying the skills that they need to insource. Competition for people with these capabilities will increase as digital transformation brings us to a new era.
Let's talk about how we can help you to define a tailored sales commission plan to drive a high-performance sales team!